Mt. Watatic
Mt. Watatic is in northern Massachusetts, near the NewHampshire border. There's a great view from the summit, and the hike is only 2 miles round-trip, if you take the direct route. I took the route described in Fifty Hikes in Massachusetts; it's about 3 miles.
The trail is rough and rocky. After a rain, water often runs down mountain trails, carrying dirt with it, and leaving only large rocks behind. If you like smooth trails, Watatic isn't for you. But if you're willing to pick your way, you'll be glad you came to Watatic.
At first I was disappointed that the view from the summit is obscured by trees. But then I went to a "secondary summit," a short walk to the southeast. There's a great view from this secondary summit. It was early April, and I could see the ski-slopes of Mt. Wachusett, 17 miles away, and the skyscrapers of Boston, 50 miles away; I thought I could see Mt. Greylock, 75 miles west, and I even thought I could dimly make out Mt. Washington, 130 miles north (slightly east of north). I couldn't see Mt. Monadnock, perhaps it was obscured by the "primary summit" or by trees. According to Fifty Hikes, you can see Monadnock as you descend Watatic (if you take the short route down).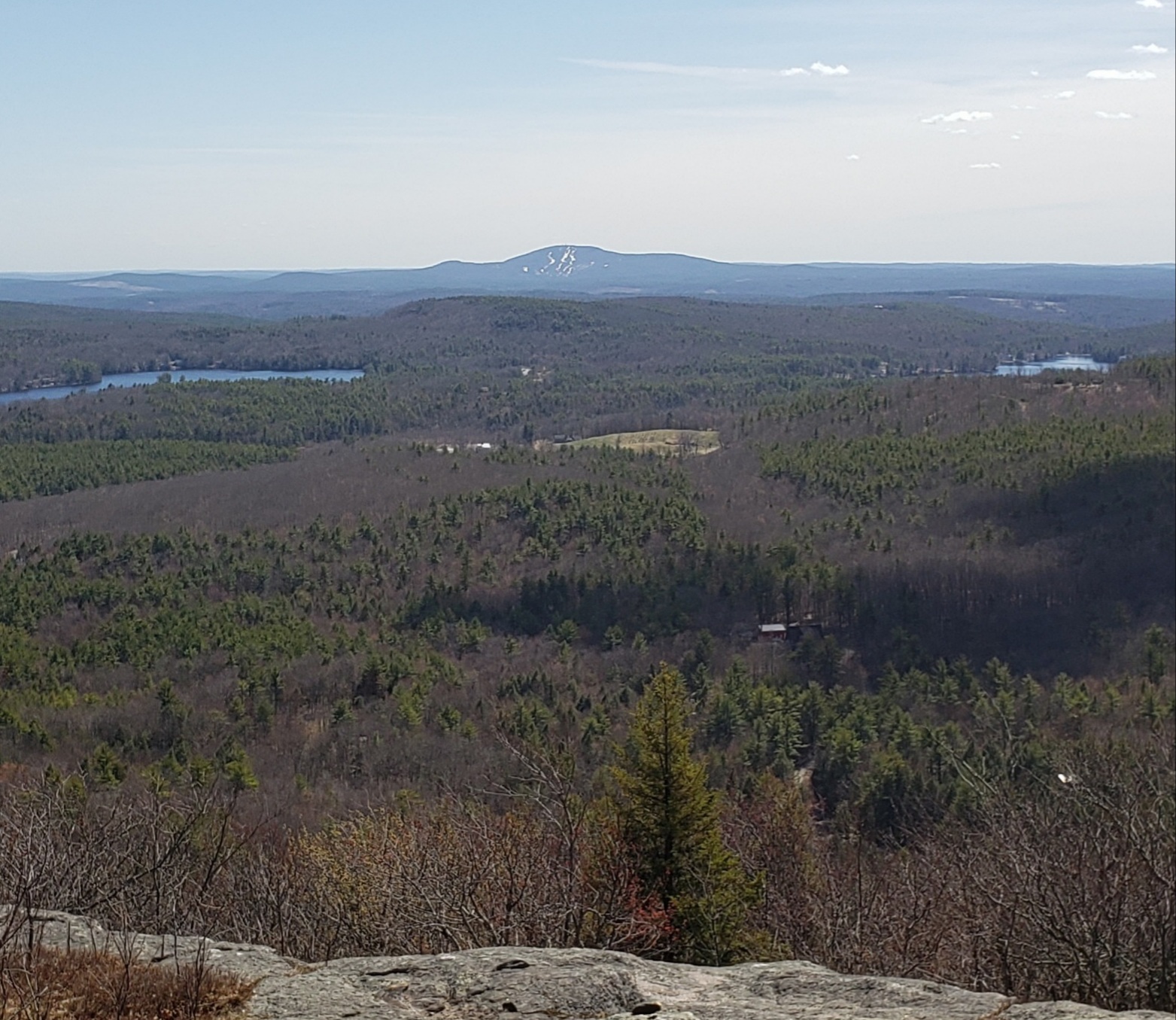 Looking south from Watatic,
toward the ski-slopes of Wachusett
On my map, I marked an intersection with an "I". You should stay to the right here, don't take the blue-blazed State Line Trail.
I marked Nutting Hill with an "N." It's sometimes called "Nutting Ledges." I went over these ledges on my ascent. The rocks here, like the rocks at the summit, have waves and swirls, like a lake where the wind is picking up; they're metamorphic rocks, which were formed and then "cooked" and re-shaped. Brady and White, the authors of Fifty Hikes, say "micas glistening in the sun draw your eyes to exposures of gneiss and schist."
Gneiss and schist are two of the most common kinds of metamorphic rocks. Gneiss is banded, like a zebra, but you can't always see bands on the surface. Schist has layers or sheets, like a stack of paper. Brady and White say that, when you reach the second "Nutting Ledge" (just 100 yards from the first ledge), you start seeing granite dikes (veins) in the rock; these dikes are lighter-colored, with large crystals of quartz and other minerals.

Beaver dam near start of trail
In the background, shrouded by trees, is Mt. Watatic
The trail starts at a parking lot on the north side of Route 119. If the parking lot is crowded, you can probably park across the street.
The Watatic trail is a section of two longer trails; it's the northern section of the Mid-State Trail, and the southern end of the Wapack Trail.