Falmouth & Environs
One of the longest bikepaths in Massachusetts is the 22-mile CapeCod RailTrail. Starting in Dennis, it goes north and east, through Orleans, to Wellfleet. It connects to a 6-mile bikepath (Old Colony Rail Trail) that goes through Harwich to Chatham. Near Mile 16, in Eastham, you can leave the CapeCod RailTrail and go to the National Seashore Visitor Center, the Nauset Bike Trail, etc.
The Shining Sea Bikeway, in western Cape Cod, is about ten miles long, and has good views and interesting towns. The Bikeway ends at the ferry dock in the town of Woods Hole; from Woods Hole, you can see Martha's Vineyard and the Elizabeth Islands. (The word "hole" is common in this area, and probably refers to the whirlpools or "holes" that occur in the channels separating islands.) A short detour from the Bikeway brings you to the charming town of Falmouth. The Bikeway connects to various walking trails, a historic farm, and a large salt marsh.

Shining Sea Bikeway, with short detours to Woods Hole and downtown Falmouth. Just southeast of downtown Woods Hole is the Nobska lighthouse.
There are also bikepaths along both the north and south sides of the Cape Cod Canal. Click here for Wikipedia's list of Massachusetts rail-trails.
Near the Shining Sea Bikeway is a nature preserve called Beebe Woods (maps here and here). It's adjacent to another preserve, Peterson Farm. Beebe Woods is also adjacent to "Highfield Hall & Gardens," a Tudor-style mansion built in 1878. All in all, there's about 400 acres of open space.
The trails at Beebe Woods seem relatively smooth, flat, and pleasant. Beebe Woods contains a wealth of Indian stones, which are carefully mapped and described in Manitou, by Byron Dix and James Mavor. Mavor worked at the Woods Hole Oceanographic Institute, and lived in the area, so he had ample opportunity to explore Beebe Woods. (Dix lived near the Boxborough Esker, so Manitou also focuses on that area; see Ch. 11, p. 272.) Manitou focuses on a 180-acre section of Beebe Woods; it refers to this section as "Boulder Ridge" since it contains a "prominent rocky ridge of large glacial boulders... that winds from east to west... for 500 yards."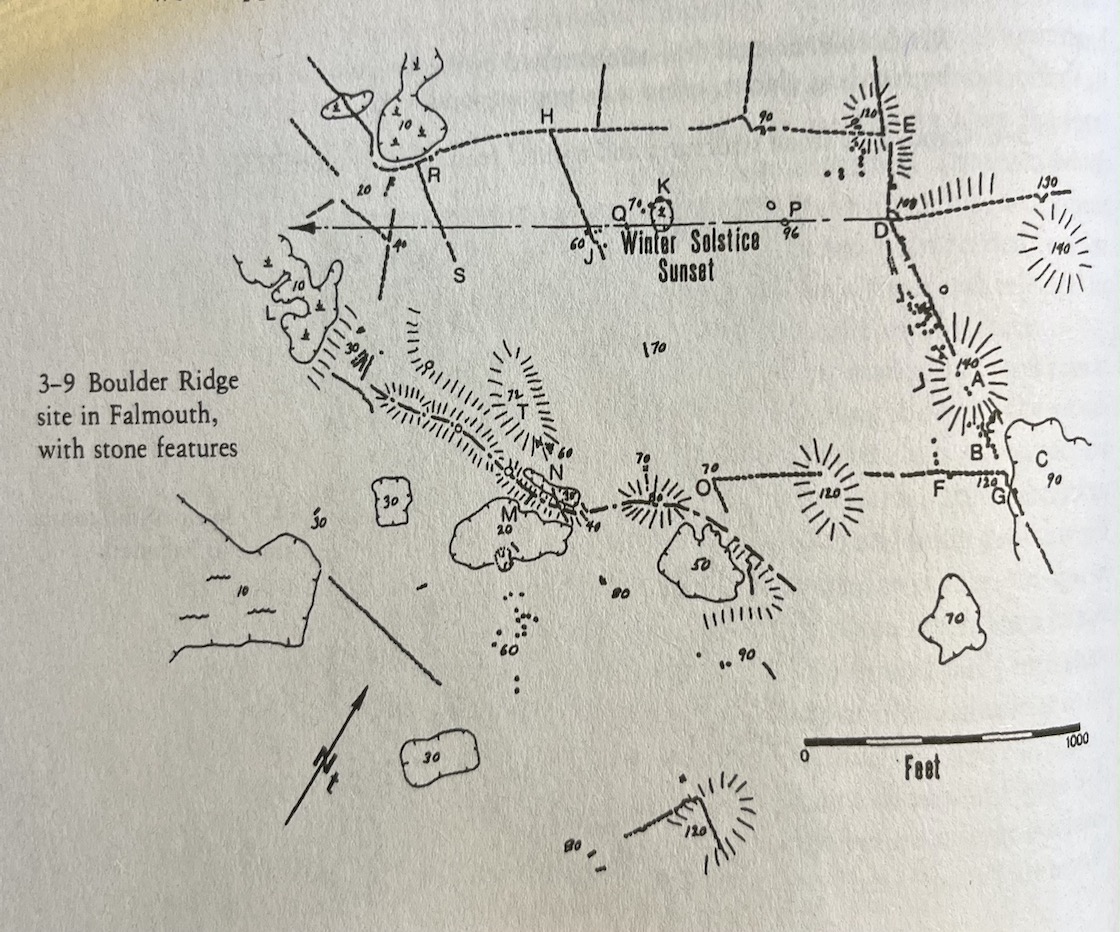 Map of "Boulder Ridge" from Manitou
I didn't go to this rocky ridge, which is in the southwestern section of the 180-acre tract. I stayed in the northeastern section, which has "the highest hilltop" (140 feet). This hilltop might be called a ridge or esker. It has a large erratic, and a stone row that cuts across the trail. I left the trail, and followed the stone row northwest (from A to D on Manitou's map), then turned right (east) and followed another stone row to a stone mound/enclosure/embrasure; this mound is marked on the Manitou map with a tiny caret. This is the only mound I found, though Dix and Mavor say that the tract has numerous mounds.
From the mound, I re-traced my steps, going west, then turned right, and followed a stone row toward the north (from D to E on the Manitou map). This stone row brings you (according to Manitou) to a "large split boulder... at corner E, on top of a knob," but I never found this split boulder, though I followed the route twice, searching for it.
I went at the wrong time of year (June); you should go when the leaves are off the trees (from Thanksgiving to Easter). Following stone rows at Beebe is difficult, you're bushwhacking through heavy undergrowth, your legs are lacerated by briers, blood is dripping down your legs and onto your socks. I recommend long pants and trekking poles. The Manitou map isn't easy to follow; it marks stone rows, but not trails. Conversely, the AllTrails map marks trails but not stone rows.
Though I didn't find the split boulder, and though I found only one mound/enclosure, I found numerous manitou stones, so I had a strong sense of being among Indian stones. Dix and Mavor sometimes call manitou stones "spirit of the creator" stones, since the Hopi Indians use this phrase for similar stones. Dix and Mavor say that manitou stones "resemble a human head and shoulders effigy" (higher in the center, sloping at the sides).
Here's a map of my route:
I marked the "highest hilltop" with a red H, I marked the parking lot with a blue P, and I marked the stone mound/enclosure with a blue pin. My map starts at the bikepath. When I failed to find the split boulder, I kept going and came to a trail (I did that twice). If I go again, I'll try following the stone row in the opposite direction, southeast of H.
Below is a picture of the stone mound, the only mound I found at Beebe. On the left is a small circle of stones, almost like a prayer seat, though too small for anyone but an infant.
Below is a picture of a large erratic; I marked it on my map with a green pin.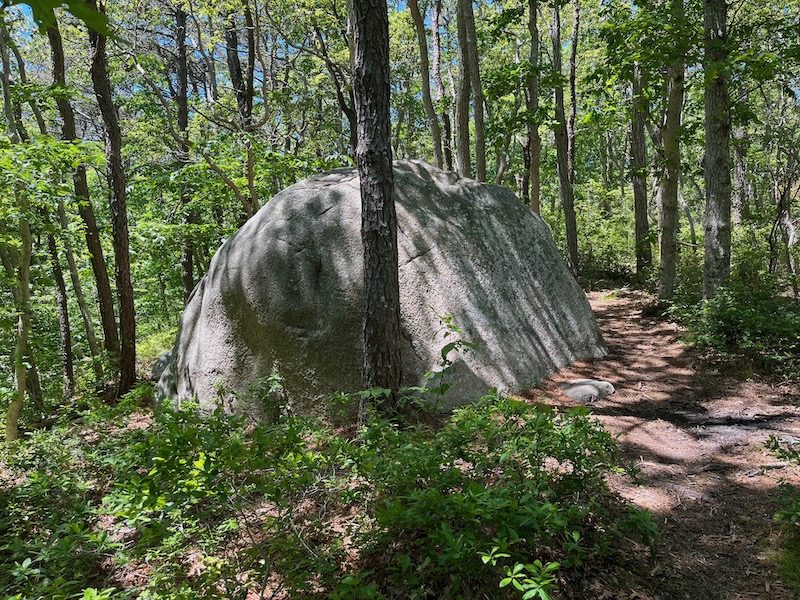 Below is a picture of a segment of a stone row. Notice how the rocks balance, creating cavities underneath. This isn't how European settlers built stone walls, this is clearly an Indian stone row. I marked the location with a black pin.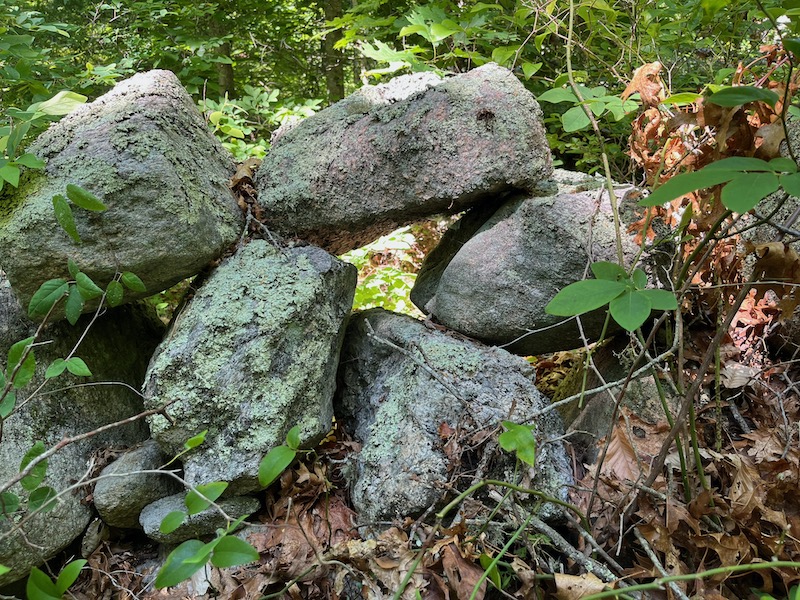 Below is another example of balancing rocks in a stone row (this example is from Estabrook Woods in Concord MA, click here to bring up a map of this exact spot).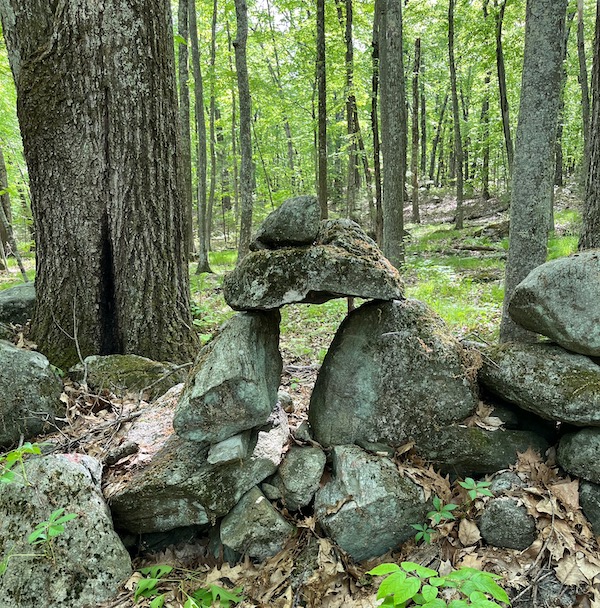 By way of contrast, let's look at a stone wall made by white settlers. Below is a picture of a wall in Tiverton, Rhode Island. Note that the wall is much taller than an Indian stone row, and the stones are more closely packed. Many of the stones in a stone row stand vertically, but in a stone wall, the stones are laid horizontally.
Below is a small manitou stone, leaning against a stone row. On my map, I marked its location with a yellow pin.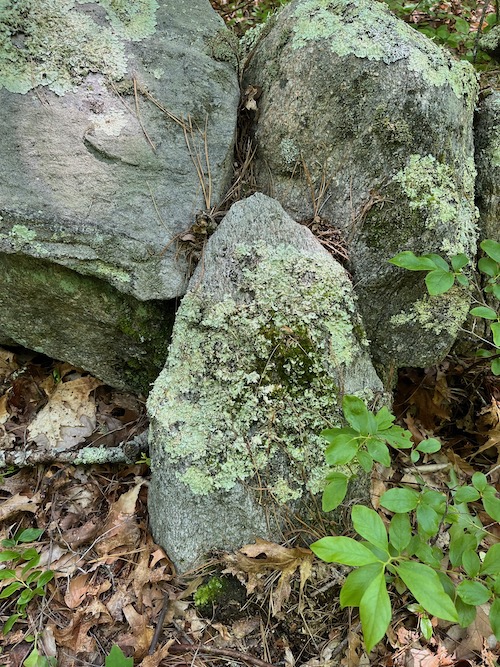 There are many manitou stones in and around the stone rows at Beebe Woods. Below is an unusually sharp-edged manitou stone. I marked its location with a brown pin. Was it cut/carved/shaped? Or did Nature give it these sharp edges? Most manitou stones seem natural, not carved.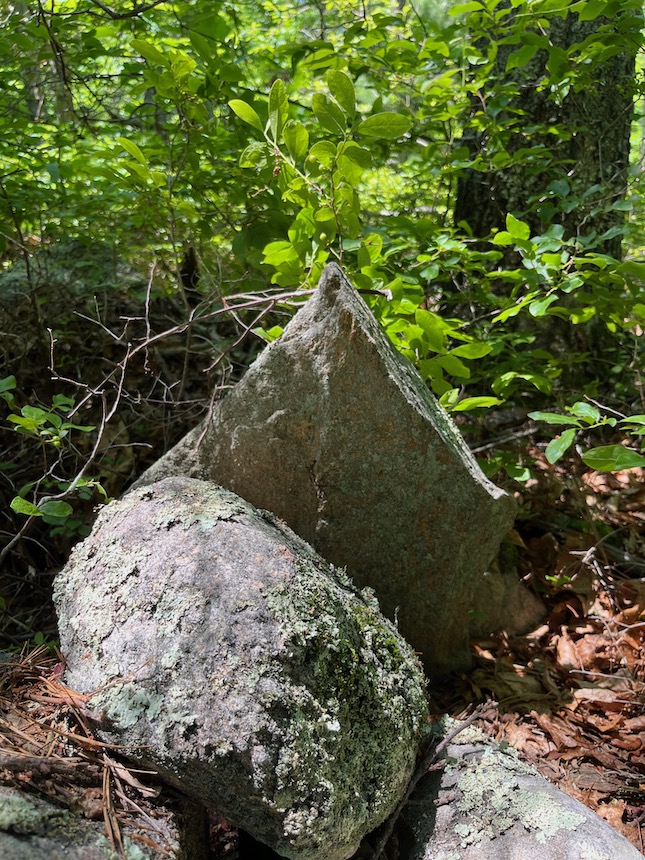 Every manitou stone is different. What they have in common, I think, is a suggestion of the human spirit, human dignity, head held high, erect bearing.
Notice that, in most of these pictures, the stone row is only 1-2 feet high — lower than the stone walls built by white settlers.
More on Indian stones
Solstice Stones, Boxborough MA
Estabrook Woods, Concord MA
Great Brook, Carlisle MA
Maudslay State Park, Newburyport MA
Standing Stones, Smithfield RI
Queen's Fort, Exeter RI