Brookline's Secret Stairways and Paths
The map below was created by a group called WalkBoston. It's a 4-mile loop through Brookline, with lots of big staircases (you'll get some exercise!).
Below is a map that shows four squares (parks) in Brookline. These squares were created by David Sears II, when Brookline was first being developed.
The map above also shows a house built by David Sears II for his son Frederick (picture below). This house has been called "a perfect example of a Gothic Revival English Cottage." It was built in 1851, and it's at 24 Cottage Farm Road; it's sometimes called the Frederick Sears House.
The Brookline "cottage" reminds me of a Gothic Revival house in Bristol, Rhode Island, a house called Seven Oaks (picture below).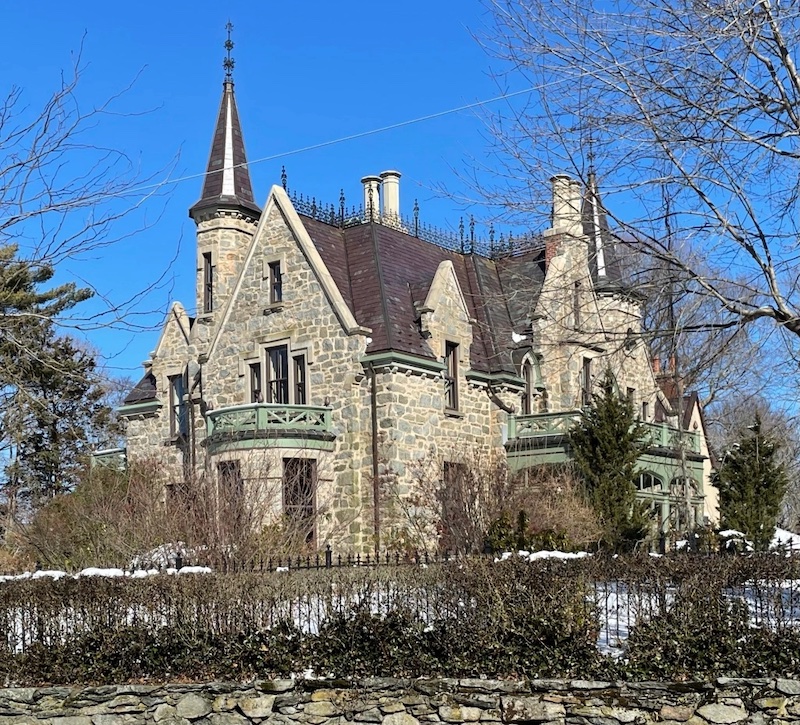 Seven Oaks was designed by James Renwick, and built in 1873.
Brookline was first developed around 1820, when the Mill Dam Road was built from Boston to Brookline, allowing Brookline residents to commute to Boston. Below is a map of Boston in 1820, with the Mill Dam Road in red. (The bay/marsh south of Mill Dam Road was later filled in to create the Back Bay neighborhood.)
Even before the Mill Dam Road was built, three stately homes were built in Brookline's Green Hill neighborhood, a couple miles south of the Frederick Sears House. These GreenHill houses have columns/porticoes; the style was called "Jamaica Planter" since it may have been inspired by Caribbean plantations. It has also been called the "Mount Vernon" style for its resemblance to Washington's estate.
These three houses were built between 1794 and 1806. They're at 215 Warren Street (once owned by Senator George Cabot; the center section was built around 1742), 135 Warren Street (once owned by Isabella Stewart Gardner), and 25 Cottage Street (once owned by Henry Hobson Richardson). I marked these houses on the map (the second map). Below is 215 Warren Street, sometimes called "Old Green Hill".

photo by Keith Morgan
The photo below shows 25 Cottage Street.
Below is Mount Vernon.