February 11, 2013
1. Jeffrey Meyers on Orwell
One of the best literary magazines in the U.S. is Roger Kimball's New Criterion, which started about thirty years ago. The New Criterion published an excellent essay on Orwell by Jeffrey Meyers, who wrote a biography of Orwell, as well as biographies of many other modern writers.1 Meyers writes frequently for The New Criterion.
Orwell has many fans. Indeed, one might say that he has nothing but fans. Is anyone critical of Orwell? Meyers has collected numerous tributes to Orwell, such as this by Kingsley Amis: "No modern writer has his air of passionately believing what he has to say and of being passionately determined to say it as forcefully and simply as possible." Edmund Wilson praised Orwell's "readiness to think for himself, courage to speak his mind, tendency to deal with concrete realities rather than theoretical positions, and prose style that is both downright and disciplined." Veronica Wedgwood, an English historian, noted that Orwell combined passion with restraint: "the strength of his feelings and his determination that they should not intrude make his style spare and economical, while his acute observation and sensibility make its very bleakness the more powerful."
Orwell was a fan of Somerset Maugham.
"The modern writer who has influenced me most [Orwell wrote] is Somerset Maugham, whom I admire immensely for his power of telling a story straightforwardly and without frills." Both writers were masters of lucid prose and advocated direct language and unambiguous expression. They believed that the writer ought to communicate in the clearest possible way, and they employed a plain style.... Maugham wrote that "good prose should be like the clothes of a well-dressed man, appropriate but unobtrusive"; Orwell echoed him in his famous simile: "Good prose is like a window pane."
Maugham was born in 1874, about thirty years before Orwell, so he was old enough to be (in Orwell's eyes) established and respected, but not so old as to seem antiquated. Meyers wrote a biography of Maugham.
Meyers notes that both Maugham and Orwell were impressed with Milton's language:
Despite their preference for simplicity, both were also deeply moved when young by the rich sounds and exotic associations of John Milton's high style. Maugham noted "the exultation, the sense of freedom which came to me when first I read in my youth the first few books of Paradise Lost." Orwell also recalled that "when I was about sixteen I suddenly discovered the joy of mere words.... The lines from Paradise Lost... sent shivers down my backbone."
I had a similar experience with Milton.
When Orwell became an editor, he had difficulty rejecting manuscripts. Later he wrote, "It is questionable whether anyone who has had long experience as a free-lance journalist ought to become an editor. It is too like taking a convict out of his cell and making him governor of the prison." Orwell was a master of metaphor.
Like Orwell himself, the protagonists of Orwell's novels are often struggling writers, constantly short of money. Only during his four years as a Burma policeman did Orwell receive a reliable paycheck. "In August 1941, when he took a job at the BBC and earned a salary of £640 a year, for the first time since 1925 he made more money than he had as a policeman in Burma."
Orwell was a big fan of Swift, often re-read Gulliver's Travels, and admired Swift's essays on the art of writing. "Swift emphasized clarity," Meyers writes, "particularly disliked the 'use of obscure terms,' and urged the young clergyman to address his congregation 'in a manner to be understood by the meanest among them.'"
In his essay "Why I Write," Orwell discussed his political views. "He called the Spanish Civil War, in which he fought on the Loyalist side and was shot through the throat, the great turning point in his life. After that, every line of his serious work — and in his view no work could be serious without a political purpose — was written 'against totalitarianism and for democratic Socialism.'" Orwell's goal was to "make people 'see the Soviet régime for what it really was' and destroy the Soviet myth in order to revive the real Socialist movement. Inspired by seeing a little boy whip a huge farm horse, Orwell imagined a revolution of oppressed beasts." The result was his popular fable, Animal Farm, which satirized the Soviet system.
Since there are few defenders of the Soviet system around today, is Orwell's work still relevant? Orwell's political purposes make his work seem dated; the political debates of his day are of little interest nowadays. Great literature deals with eternal questions; Orwell often deals with topical questions.
Orwell became famous in 1945, with the publication of Animal Farm. He retreated to the island of Jura (on the west coast of Scotland) in order to find quiet, and complete his last novel, Nineteen Eighty-Four. His health was failing (he had tuberculosis). After completing Nineteen Eighty-Four, Orwell went to a sanatorium for treatment. Meyers says that Orwell's description of the protagonist of Nineteen Eighty-Four fits Orwell himself:
"The truly frightening thing was the emaciation of his body. The barrel of the ribs was as narrow as that of a skeleton.... The curvature of the spine was astonishing. The thin shoulders were hunched forward so as to make a cavity of the chest, the scraggy neck seemed to be bending double under the weight of the skull." When Orwell was in the sanatorium, the doctors had to take extreme measures to prevent him from writing. The medical staff, insisting on complete physical and mental rest, confiscated his typewriter. When he kept on writing with a ballpoint pen, they put his right arm in plaster.
2. Veronica Wedgwood and Christopher Hill
The Meyers essay drew my attention to Veronica Wedgwood, an English historian whose life spanned much of the 20th century. Wedgwood is known for her works on the Thirty Years' War and the English Civil War, and for her biographies of Cromwell, Richelieu, etc. Her biography of William the Silent (who led the Dutch revolt against the Spanish in the mid-1500's) won the James Tait Black Memorial Prize in 1944. Along with Einstein, Kennan, and others, Wedgwood was a member of Princeton's Institute for Advanced Study (she was at the Institute from 1952 to 1966).
Another English historian whose life spanned much of the 20th century, and who wrote about the 17th century, was Christopher Hill. Hill was a student at Oxford in the 1930s, and later a professor at Oxford. In 1934, Hill joined the Communist Party of Great Britain; he's considered a Marxist historian. He co-founded the journal Past and Present, a journal that dealt with Social History and viewed history "from the bottom up." In the 1950s, Hill became somewhat disillusioned with Communism, and left the Party, partly because of the Soviet invasion of Hungary in 1956. Among Hill's books are
Milton and the English Revolution
The World Turned Upside Down: Radical Ideas During the English Revolution
Intellectual Origins of the English Revolution
Reformation to Industrial Revolution: A Social and Economic History of Britain, 1530-1780 (two volumes)
3. George Gissing
The Meyers essay also drew my attention to an English novelist named George Gissing, whom Orwell called "perhaps the best novelist England has produced."2 Orwell especially admired Gissing's novels The Odd Women, New Grub Street, and Demos; Orwell also praised Gissing's study of Dickens. In recent years, three of Gissing's novels were published in the series called Oxford World's Classics, though none of his works are in the Norton Critical Editions.
Gissing died in 1903, at the age of 46. In his day, Gissing had many fans. "By the end of the 19th century, critics placed [Gissing] alongside Thomas Hardy and George Meredith as one of the three leading novelists in England."3 Gissing was friends with several prominent writers, including H. G. Wells, who spent much time with him, and was with him at his death. Gissing's politics were conservative; "I throw what weight I may have," he wrote, "on the side of those who believe in an aristocracy of brains, as against the brute domination of the quarter-educated mob." Gissing reflected on his own life in The Private Papers of Henry Ryecroft.
4. J. B. Priestley
The Meyers essay also drew my attention to an English novelist named J. B. Priestley, whom Orwell speaks of with respect. Priestley's family seems to have been upper-class, or upper-middle-class; his father was a headmaster. Priestley fought in World War I, and later attended Cambridge. "Priestley's first major success came with a novel, The Good Companions (1929), which earned him the James Tait Black Memorial Prize for fiction and made him a national figure." Later he became a prominent playwright. Perhaps his best-known play is An Inspector Calls (1945), in which Priestley expressed his socialist views. Priestley also expressed his socialist views in English Journey, which is said to have inspired Orwell's Road to Wigan Pier. In 1958, Priestley joined a campaign for nuclear disarmament.
Priestley was interested in the paranormal, and studied the writings of J. W. Dunne, who argued that the future already exists, and can be perceived in dreams. Several of Priestley's plays drew on Dunne's ideas; critics speak of Priestley's "Time Plays." When he was interviewed on British TV in 1963, he asked viewers to send him their paranormal experiences. These submissions became part of Priestley's book Man and Time.4
During World War II, Priestley was a popular radio broadcaster; only Churchill drew larger audiences. (E. M. Forster was also a radio broadcaster.)
Priestley wrote an autobiographical work, Margin Released. He died in 1984, at the age of 89. J. B. Priestley (John Boynton Priestley) should not be confused with Joseph Priestley, an 18th-century intellectual who is sometimes credited with discovering oxygen.
Update 2020
I saw a 2015 BBC version of An Inspector Calls (2015). It's well-made and enjoyable to watch. The upper-class, especially the older members of the upper-class, are depicted as ruthless, while the working-class is depicted as innocent victims. At the end of the play, there's a "time slip," as there is at the end of Priestley's Dangerous Corner.
I also saw a 1983 BBC version of Dangerous Corner. It has a dark, claustrophobic atmosphere, I didn't enjoy it as much as An Inspector Calls. The end of Dangerous Corner has a time slip, and an alternative plot, reminding me of the German movie Run Lola Run, which I discussed in an earlier issue. The insistence on getting to the truth, and the danger of getting to the truth, reminded me of Ibsen's Wild Duck.
In Ibsen's play, Relling is a positive character who tries to preserve illusions, not expose the truth. In Dangerous Corner, Stanton is a positive character who tries to preserve illusions, while Robert wants the truth to be completely exposed; Robert's attitude turns out to be unwise, a "dangerous corner." Another positive aspect of Stanton's character is that he's from the middle-class; as in Inspector Calls, the middle-class and lower-class characters are more virtuous.
Both of these plays seem somewhat contrived. I'm not very impressed with Priestley's grasp of human nature, or with his grasp of the occult, but perhaps I should try him again.
5. Ten More Christian Scenes
See also Ten Christian Scenes
Adoration of the Shepherds
Caravaggio
And she brought forth her firstborn son, and wrapped him in swaddling clothes, and laid him in a manger; because there was no room for them in the inn. And there were in the same country shepherds abiding in the field, keeping watch over their flock by night. And, lo, the angel of the Lord came upon them, and the glory of the Lord shone round about them: and they were sore afraid. And the angel said unto them, Fear not: for, behold, I bring you good tidings of great joy, which shall be to all people. For unto you is born this day in the city of David a Savior, which is Christ the Lord. And this shall be a sign unto you; Ye shall find the babe wrapped in swaddling clothes, lying in a manger. And suddenly there was with the angel a multitude of the heavenly host praising God, and saying, Glory to God in the highest, and on earth peace, good will toward men. And it came to pass, as the angels were gone away from them into heaven, the shepherds said one to another, Let us now go even unto Bethlehem, and see this thing which is come to pass, which the Lord hath made known unto us. And they came with haste, and found Mary, and Joseph, and the babe lying in a manger. (Luke 2, 7-16)

Presentation in the Temple
Rubens
And when eight days were accomplished for the circumcising of the child, his name was called Jesus.... They brought him to Jerusalem, to present him to the Lord.... And, behold, there was a man in Jerusalem, whose name was Simeon; and the same man was just and devout.... And it was revealed unto him by the Holy Ghost, that he should not see death, before he had seen the Lord's Christ. And he came by the Spirit into the temple: and when the parents brought in the child Jesus.... then took he him up in his arms, and blessed God, and said, Lord, now lettest thou thy servant depart in peace, according to thy word: For mine eyes have seen thy salvation, Which thou hast prepared before the face of all people; A light to lighten the Gentiles, and the glory of thy people Israel. (Luke 2, 21-32)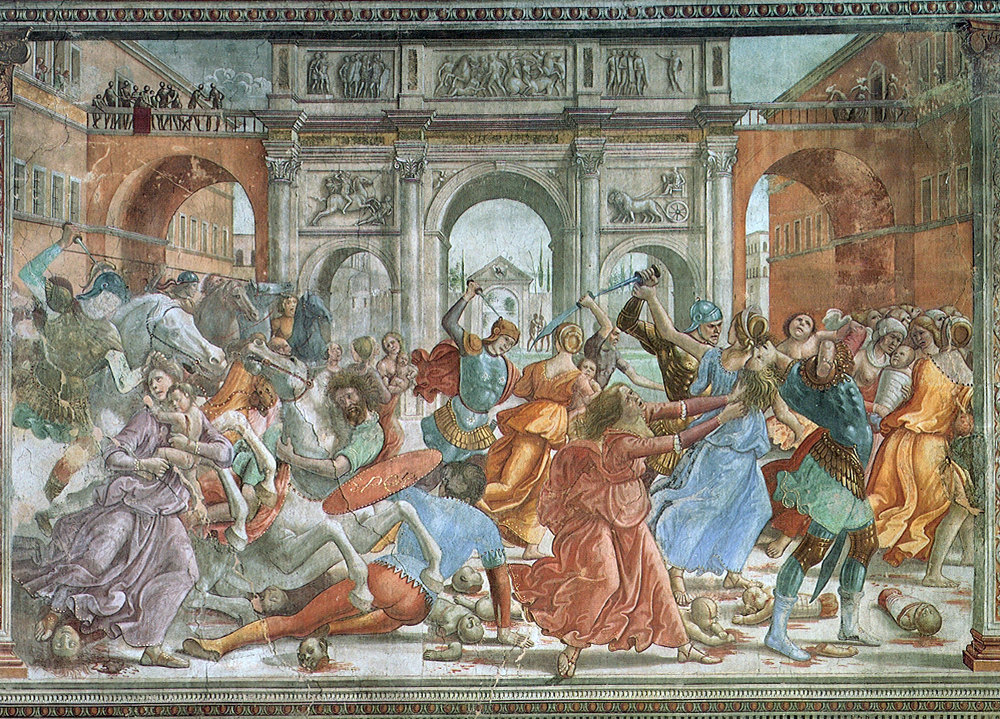 Massacre of the Innocents
Ghirlandaio
Now when Jesus was born in Bethlehem of Judaea in the days of Herod the king, behold, there came wise men from the east to Jerusalem, Saying, Where is he that is born King of the Jews? for we have seen his star in the east, and are come to worship him. When Herod the king had heard these things, he was troubled.... And when [Herod] had gathered all the chief priests and scribes of the people together, he demanded of them where Christ should be born. And they said unto him, In Bethlehem of Judaea.... And being warned of God in a dream that they should not return to Herod, [the wise men] departed into their own country another way.... Then Herod, when he saw that he was mocked of the wise men, was exceeding wroth, and sent forth, and slew all the children that were in Bethlehem, and in all the coasts thereof, from two years old and under. (Matthew 2, 1-16)
The Miraculous Draught of Fishes
Raphael
He said unto Simon, Launch out into the deep, and let down your nets for a draught. And Simon answering said unto him, Master, we have toiled all the night, and have taken nothing: nevertheless at thy word I will let down the net. And when they had this done, they inclosed a great multitude of fishes: and their net brake. And they beckoned unto their partners, which were in the other ship, that they should come and help them. And they came, and filled both the ships, so that they began to sink. When Simon Peter saw it, he fell down at Jesus' knees, saying, Depart from me; for I am a sinful man, O Lord.... And Jesus said unto Simon, Fear not; from henceforth thou shalt catch men. And when they had brought their ships to land, they forsook all, and followed him. (Luke 5, 4-11)
The Storm on the Sea of Galilee
Delacroix
And there arose a great storm of wind, and the waves beat into the ship, so that it was now full. And he was in the hinder part of the ship, asleep on a pillow: and they awake him, and say unto him, Master, carest thou not that we perish? And he arose, and rebuked the wind, and said unto the sea, Peace, be still. And the wind ceased, and there was a great calm. (Mark 4, 37-39)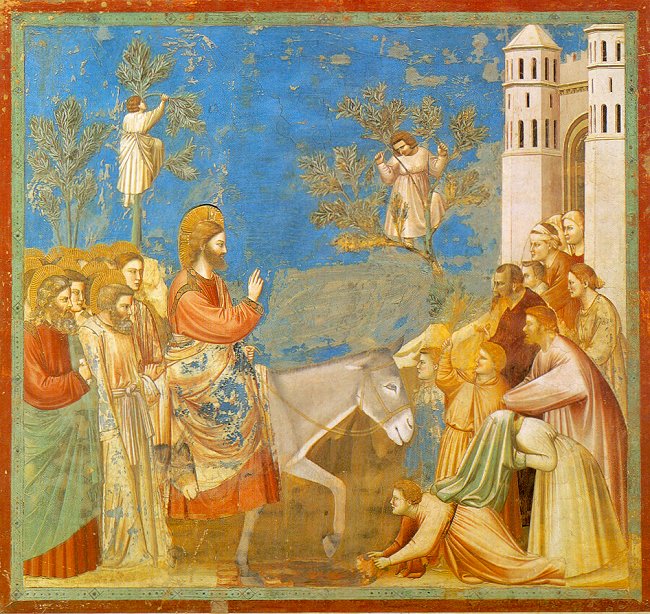 Entry into Jerusalem
Giotto
And when they drew nigh unto Jerusalem... then sent Jesus two disciples, Saying unto them, Go into the village over against you, and straightway ye shall find an ass tied, and a colt with her: loose them, and bring them unto me.... And the disciples went, and did as Jesus commanded them, And brought the ass, and the colt... and they set him thereon. And a very great multitude spread their garments in the way; others cut down branches from the trees, and strawed them in the way. And the multitudes that went before, and that followed, cried, saying, Hosanna to the son of David: Blessed is he that cometh in the name of the Lord; Hosanna in the highest. And when he was come into Jerusalem, all the city was moved, saying, Who is this? And the multitude said, This is Jesus the prophet of Nazareth of Galilee. (Matthew 21, 1-11)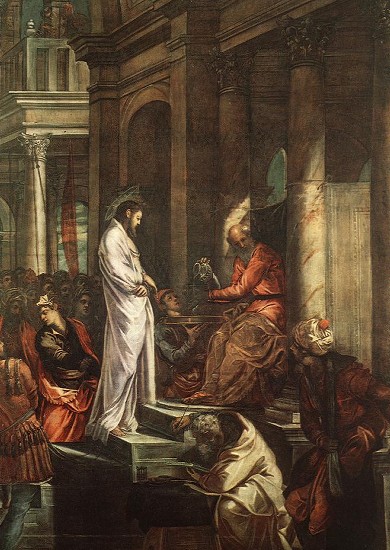 Christ Before Pilate
Tintoretto
And Jesus stood before the governor: and the governor asked him, saying, Art thou the King of the Jews? And Jesus said unto him, Thou sayest. And when he was accused of the chief priests and elders, he answered nothing. Then said Pilate unto him, Hearest thou not how many things they witness against thee? And he answered him to never a word; insomuch that the governor marvelled greatly.... Pilate saith unto them, What shall I do then with Jesus which is called Christ? They all say unto him, Let him be crucified. And the governor said, Why, what evil hath he done? But they cried out the more, saying, Let him be crucified. When Pilate saw that he could prevail nothing, but that rather a tumult was made, he took water, and washed his hands before the multitude, saying, I am innocent of the blood of this just person: see ye to it. (Matthew 27, 11-24)
The Carrying of the Cross
Bosch
And they took Jesus, and led him away. And he bearing his cross went forth into a place called the place of a skull, which is called in the Hebrew Golgotha. (John 19, 16-17)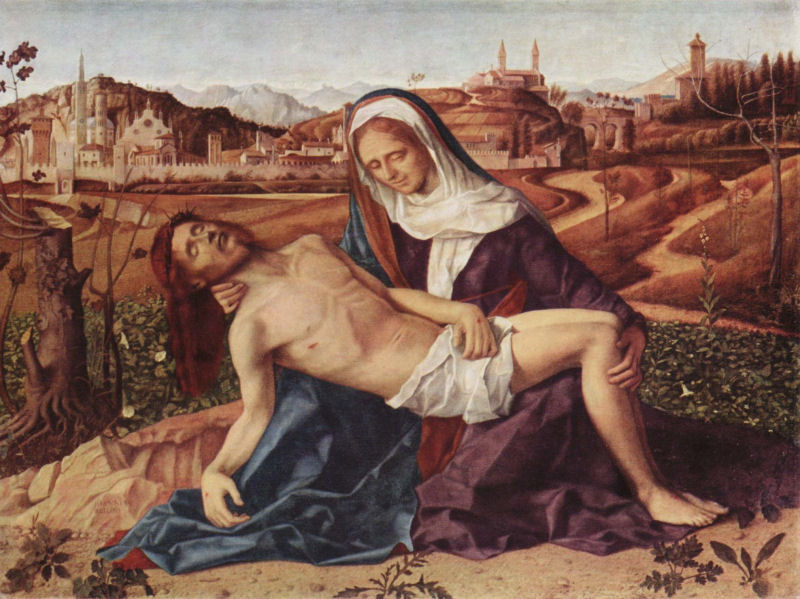 Pietà
Giovanni Bellini
Supper at Emmaus
Caravaggio
And, behold, two [apostles] went that same day to a village called Emmaus.... And it came to pass, that, while they communed together and reasoned, Jesus himself drew near, and went with them. But their eyes were holden that they should not know him.... And beginning at Moses and all the prophets, he expounded unto them in all the scriptures the things concerning himself. And they drew nigh unto the village, whither they went: and he made as though he would have gone further. But they constrained him, saying, Abide with us: for it is toward evening, and the day is far spent. And he went in to tarry with them. And it came to pass, as he sat at meat with them, he took bread, and blessed it, and brake, and gave to them. And their eyes were opened, and they knew him; and he vanished out of their sight. (Luke 24, 13-32)
6. Miscellaneous
A. I saw an Eric Rohmer movie, My Night At Maud's (Ma Nuit chez Maud, 1969). Perhaps no other filmmaker can make art from something as simple as having a cup of tea. One is continually impressed by Rohmer's thoughts, and amused by his humor. Whenever the movie starts to become tedious, the story sets off in a new direction, and one's interest revives.
B. I recommend a 4-hour documentary called Saving the Bay, about the history and ecology of San Francisco Bay. Click here to view the documentary online. It was so well-received that a new film is being made called Saving the City, about urban design and urban life, and a shorter film called Sailing the Bay.
C. I recommend a 10-hour documentary called The Ascent of Man (1973), created by Jacob Bronowski. It emphasizes science, and thus complements an earlier BBC documentary, Kenneth Clark's Civilisation (1969), which emphasized art. Bronowski was a humanist as well as a scientist; he presents interesting ideas in a lucid, elegant way. Both the Clark documentary and the Bronowski documentary were commissioned by BBC executive David Attenborough, best known for his nature documentaries.
D. I saw a documentary called Silicon Valley, part of the American Experience series. It's about 80 minutes long, and can be viewed online. It discusses William Shockley, who helped invent the transistor at Bell Labs (in 1947), then started Shockley Semiconductor, perhaps the first high-tech company in Silicon Valley. Some of Shockley's best employees left to start Fairchild Semiconductor, which in turn spawned other companies, such as Intel and AMD. The documentary traces the development of the microchip, and also the development of a new corporate culture — less rigid, less hierarchical than the culture of established East Coast corporations. Appearing on the documentary is Michael S. Malone, author of The Microprocessor: A Biography, The Valley of Heart's Delight: A Silicon Valley Notebook, 1963-2001, and other works. Also appearing is Leslie Berlin, author of The Man Behind the Microchip: Robert Noyce and the Invention of Silicon Valley.5
If you want a more general history of computers, try a documentary called The Machine That Changed the World (1992), available on YouTube (it's about 5 hours long). And consider James Gleick's bestseller, The Information: A History, a Theory, a Flood (2011). Gleick also wrote Chaos: Making A New Science (1987).6
© L. James Hammond 2013
feedback
visit Phlit home page
make a donation via PayPal
---
Footnotes
1.
"Orwell on writing," Vol. 22, No. 2, October 2003 back

2.
Wikipedia back

3.
Wikipedia back

4.
One is reminded of Koestler's 1974 appeal to newspaper readers to submit striking coincidences. back

5.
The transistor was a big improvement on the vacuum tube, as the vacuum tube had been a big improvement on the relay (telephone relay). back

6.
Consider also the writings of Paul Ceruzzi, such as Computing: A Concise History (2012), and a longer book called A History of Modern Computing (2003). If you want to learn about computer architecture, logic gates, etc., consider The Logician and the Engineer: How George Boole and Claude Shannon Created the Information Age, by Paul Nahin. back