June 17, 2012
1. The Retreat to Antiquity
Leo Strauss was writing around 1950, writing in the wake of the Holocaust. Strauss saw that one of the West's leading philosophers, Heidegger, had sided with the Nazis, or at least not opposed them. And other leading Western philosophers, like Nietzsche, had decided that morality wasn't absolute; Nietzsche proudly called himself an "immoralist." It seemed that Western philosophy had prepared the ground for the crimes of the 20th century, or at least hadn't constructed any strong arguments against these crimes. Thus, Strauss declared that Western philosophy had gone astray, had lost its bearings, and the only way to restore it was to return to the ancient Greeks.
Meanwhile, Muslim intellectuals like Sayyid Qutb were also condemning Western civilization, and were also arguing that the only way out was to return to antiquity. But unlike Strauss, Qutb didn't urge a retreat to the Acropolis, he urged a retreat to Mecca, a retreat to The Prophet and his Book.
My view is that civilization's ills can't be cured by a retreat to the past — the Greek past or the Muslim past. Antiquity can't satisfy the spiritual needs of today. I've argued that we should build a new philosophy based on the best in the Western philosophical tradition (Nietzsche, Thoreau, etc.), the best in the Eastern tradition, and the best in the psychological tradition of Jung, Freud, etc. There is a way forward — not as easy, perhaps, as relying on the past, but not impossible either.
2. Cycling in New York City
In early May, I rode the FiveBoro Bike Tour in New York City. It has become one of the most popular rides in the U.S., if not the world, and it attracts riders from numerous countries. It's held the first Sunday in May. It's about 40 miles long, and there are about 32,000 riders. Serious cyclists may think it's too short and too crowded. But if you want to see various neighborhoods, and see the New York skyline from various perspectives, I recommend it. Since more than 32,000 riders want to participate, Bike New York has a lottery to determine who participates. It costs about $85 to ride in the tour. Click here for a map of the tour.1 Click here for a map of all bike paths in New York City, or here to request a free printed map of New York bike paths.
In addition to Bike New York, there's another group that organizes rides around the City: Transportation Alternatives. One of their rides is called the NYC Century Bike Tour. While traffic is shut down along the route of the FiveBoro tour, it isn't shut down along the route of the Century Tour. The Century Tour offers riders a choice of distances, from 15 miles all the way to 100 miles. The Century Tour will take place on September 9, 2012, and is expected to attract about 6,000 riders. Transportation Alternatives also organizes the Tour de Brooklyn, the Tour de Queens, etc. Rides are also organized by the Five Borough Bike Club, Weekday Cyclists, New York Cycle Club, etc.
The FiveBoro ride starts in southern Manhattan and goes north along 6th Ave. to Central Park. Click here for a collection of photos from the ride, starting in southern Manhattan, and then circling through the five boroughs before finishing back in southern Manhattan.
6th Ave. is wide, the riding is effortless, and everyone is in a buoyant mood. In Central Park, the road narrows, and it isn't as easy to stop for picture-taking, etc., but riders are split between two roads, so you still make steady progress. One older man in the group made a playlist of bike-related music, which he played as we rode through the park. One local teen, who hadn't registered for the tour, entered our group, picked up his front wheel, and rode on just his back wheel. One man had a child on a "tag-along" bike attached to the back of his bike, and two younger children in a wagon attached to the tag-along. Many people were in groups, and were trying, with various degrees of success, to stay together with the other riders in their group. To identify their group, they wore something in their helmet, such as straws that stood up straight; one group had fly swatters sticking out of their helmets.
Since the road was a river of bikes, it was difficult for pedestrians to cross the road. I saw several groups of pedestrians waiting to cross, and I heard one woman ask a policeman, "How are we supposed to cross the road?" Some daring souls ventured to cross by dodging bikes.
North of Central Park, we entered Harlem, where there was a "traffic jam" of bikes, and we had to stand around for a while. Last year, there was a similar traffic jam in Brooklyn, and complaints from some riders. They try to avoid such bottlenecks by assigning the 32,000 riders to different starting times, and different starting locations.
I was assigned to the last starting time, and the most southern starting location, so most riders were ahead of me. As I stopped to take pictures, more riders passed me, so finally I was near the back of the pack. Laggards like me were hustled out of the rest areas, where bagels, bananas, and other snacks were being given out. We were hustled across the Queensboro Bridge, then directed south toward Brooklyn; we missed the loop through northern Queens, which passes through Astoria Park, and goes under the East River section of the Triboro Bridge. If you want to ride the full route, don't be a laggard!
I rode a mountain bike with fat tires. Some people used folding bikes made by Citizen or Dahon. Others rented from companies like Bike and Roll. Beginning this summer, there will be a bike share system in New York. As for lodgings, I spoke to an Australian couple who were using a website called airbnb; a similar site is Vacation Rentals By Owner. (According to one travel writer, "The major apartment rental operators are Roomorama, Wimdu, 9flats, Home Away, and Airbnb.... Airbnb has the best US inventory, Wimdu has a good European inventory, and 9flats is strong in Spain and Germany. Home Away has one of the biggest inventories of all.") Consider also a website called Spinlister, which describes itself as Airbnb for bikes, skis, and snowboards.
Perhaps the only uphill sections of the ride were the ascents to the Queensboro Bridge and the Verrazano Bridge. Once you get to the Queensboro Bridge, it's flat, but the Verrazano Bridge is an arc, and the first half is uphill. The Verrazano Bridge takes you from Brooklyn to Staten Island, where there's a festival with food, music, souvenirs, etc. Near the festival is Fort Wadsworth, which is run by the National Park Service, and offers good views of New York harbor. Then there's a 3-mile ride through Staten Island to the dock from which the Staten Island Ferry brings you back to southern Manhattan. To avoid a long wait for the ferry, you may want to linger at the festival until most other riders have returned to Manhattan. The ferry ride is one of the most pleasant and scenic parts of the tour, with good views of Governors Island, southern Manhattan, the Statue of Liberty, etc. The whole tour took close to ten hours.
After the ferry dropped us on the southern edge of Manhattan (the east side of the southern edge), I cycled north along the East River bike-path. I noticed an old ship with tall masts, the Peking.
I later learned that the Peking is part of the South Street Seaport Museum, a collection of tall ships, old commercial buildings, etc. The Peking was built in 1911 for the wheat trade and the nitrate trade. The wheat trade brought Australian grain to Britain; it was known as The Grain Race, since the ships involved raced each other to Britain. The nitrate trade brought nitrate (also called "saltpeter") from the deserts of Chile to Europe, for use in fertilizers and explosives.2 Nitrate was much needed in Europe, and brought much profit to South America; it was called "white gold." In 1879, competition for nitrate started a war between Peru, Bolivia and Chile; the war is known as The Saltpeter War, or the War of the Pacific. It was won by Chile, and it resulted in Bolivia losing its ports, and becoming landlocked. (The war is sometimes called The Guano War since guano, the droppings of seabirds, is a source of nitrates, and is collected in that area.) Demand for South American nitrate fell when it became possible to make synthetic nitrate.
I discovered a writer who has written historical novels set in New York City: E. L. Doctorow, author of Ragtime, World's Fair, etc. A Tree Grows in Brooklyn is a popular novel, written by Betty Smith and published in 1943; it's about immigrants in New York in the early 1900s. Peter Quinn has written historical novels about New York, such as The Banished Children of Eve (set during the Civil War), and The Hour of the Cat (set during World War II).
Pete Hamill is a journalist/author known for his works about New York; one of his novels, Forever, deals with the whole history of the city. (As of June, 2014, Forever is being made into a TV mini-series by Robert Redford.) Consider also Hamill's memoir, A Drinking Life, which may have inspired Frank McCourt's popular memoir, Angela's Ashes.
Kevin Baker has written several historical novels about New York; he's best known for Paradise Alley, which takes place during the Civil War. Paradise Alley won the James Fenimore Cooper Prize for historical fiction. Baker graduated from Columbia in 1980.
New York: A Documentary Film, directed by Ric Burns, is about 15 hours long, and is a good introduction to the history of the city. The film quotes various writers, such as Philip Hone, who was the mayor of New York from 1826 to 1827. Hone kept a diary from 1828 until his death in 1851; Hone's diary is a good source of information about that period of New York history. Another New Yorker, George Templeton Strong (1820-1875), kept a diary for almost 40 years. His entries during the Civil War years (Diary of the Civil War: 1860-1865, by George Templeton Strong, edited by Allan Nevins) have been called the Northern equivalent of Mary Chesnut's diary.
Another film about New York history is called New York: The Way It Was. It's a bit sentimental, it's not "hard history". It's made up of three parts: Brooklyn, Queens, and the core city.
Russell Shorto wrote about the first period, the Dutch period, of New York's history in The Island at the Center of the World. Kenneth T. Jackson is a Columbia professor and a specialist on the history of New York City; he edited The Encyclopedia of New York City (1,500 pages), and he also edited an anthology of writings about the city called Empire City: New York Through the Centuries.
E. B. White wrote a short book called Here is New York. Nathan Silver wrote Lost New York, which deals with buildings and places that no longer exist (the hardcover version has better photos than the paperback, and the revised version is better than the original). John Steele Gordon writes about New York financial history; Gordon also wrote a more general work, Empire of Wealth: The Epic History of American Economic Power. Jean Strouse wrote a biography of J. P. Morgan, and a biography of Alice James, sister of William and Henry James. Brendan Gill wrote several books about New York matters, including Fair Land to Build in: The Architecture of the Empire State. For more on architecture, consider the AIA Guide to New York City.
3. New York Rambles
A few blocks west of the South Street Seaport is Wall Street, the stock market, and the Financial District. One of the oldest buildings in the Financial District is Federal Hall, which was built in 1842 as a Customs House, on the location of an older building that was the first U.S. Capitol (when New York City was the capitol of the U.S.).3 The architecture of Federal Hall is classical, with columns at the entrance, and a dome inside. A statue of Washington is in front of the building. Federal Hall is run by the National Park Service; admission is free, and guided tours are also free.
About one block west of Federal Hall, at the intersection of Wall Street and Broadway, is Trinity Church, which was built in 1846 in the Gothic style. But the site had a church as far back as 1698, and the graveyard has stones dating back to 1681; Alexander Hamilton is buried there. For more than forty years after its construction, Trinity Church's spire was the highest point in New York. God has smiled on the church's finances: the church owns considerable land in Manhattan. Admission to the church is free, as is the guided tour that's given every day at 2 pm.
Trinity Church, from Wall Street side (east side)
About five blocks north of Trinity Church, on Broadway between Vesey and Fulton, is St. Paul's Chapel, which was built in 1764 in the Georgian style. St. Paul's Chapel is the oldest church in Manhattan, and it's where Washington worshipped after his inauguration in 1789. Behind St. Paul's is the World Trade Center site, and there are many mementoes of September 11 inside the church.
St. Paul's Chapel, from Broadway side (east side)
Since southern Manhattan was developed first, New York's oldest churches are there. Since most of the early settlers were Protestant, the first Catholic church wasn't built for almost a century after the first Protestant church, and the first Catholic church was further north than the early Protestant churches — in fact, it was outside the city limits. New York's oldest Catholic church is St. Peter's, at the corner of Barclay and Church Street, a block north of St. Paul's Chapel. The present St. Peter's was built in 1836 in the Greek Revival style, but the original St. Peter's was built on this site in 1785.
St. Peter's, from Barclay Street
(the front of the church faces Barclay Street, the side faces Church Street)
Like most early Catholic churches in New York, St. Peter's was the site of anti-Catholic, anti-Irish, nativist riots, by groups such as the Know-Nothings. In response to these riots, pro-Catholic groups were formed to defend the Catholic churches; an Irish group called the Ancient Order of Hibernians was founded in New York in 1836.
So these three old churches — Trinity Church, St. Paul's Chapel, and St. Peter's — represent three different architectural styles — Gothic, Georgian, and Greek Revival. Whether or not they can help the person seeking eternal salvation, they seem well designed to help the student of architecture.
A block north of St. Paul's Chapel, on Broadway, is City Hall, which was built in 1810 in the French Renaissance style. The Mayor of New York still has his office here; it's the oldest City Hall in the U.S.
City Hall
Also in City Hall Park, on Chambers Street, is Tweed Courthouse, which was built about 1870 in the Italianate style. Free tours are given of both City Hall and Tweed Courthouse, but only on weekdays, and only with a reservation. (You can also tour Gracie Mansion, the official residence of the Mayor, but tours are only given on Wednesdays. Gracie Mansion is on the East River, at 88th Street.4)
Just to the east of Tweed Courthouse, at the corner of Chambers and Centre, is the Municipal Building, built in 1907; it's 40 stories tall and towers over City Hall and Tweed Courthouse.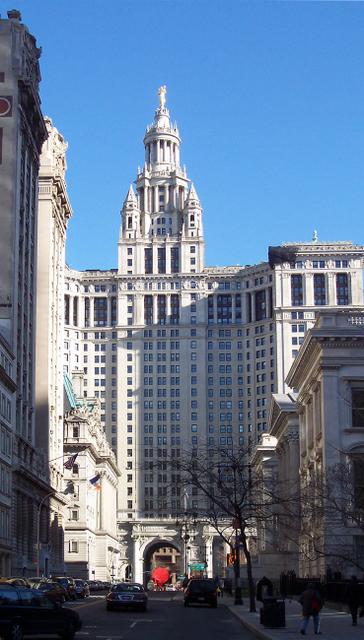 The Municipal Building. Note the archway in the bottom center.
If you want to walk on Brooklyn Bridge, the pedestrian entrance is behind City Hall (east of City Hall).
If you want to walk to the southern tip of Manhattan (Battery Park), and see the harbor and the Statue of Liberty, you might want to pass by 33 Liberty Street, near the intersection of Liberty and Nassau, one block east of Broadway. It's the Federal Reserve Bank of New York, built in 1924 in the style of a Florentine palace. It's apparently the largest storehouse of gold in the world. I was much impressed with it when I came upon it unexpectedly; New York abounds in impressive buildings that you've never seen, never heard of.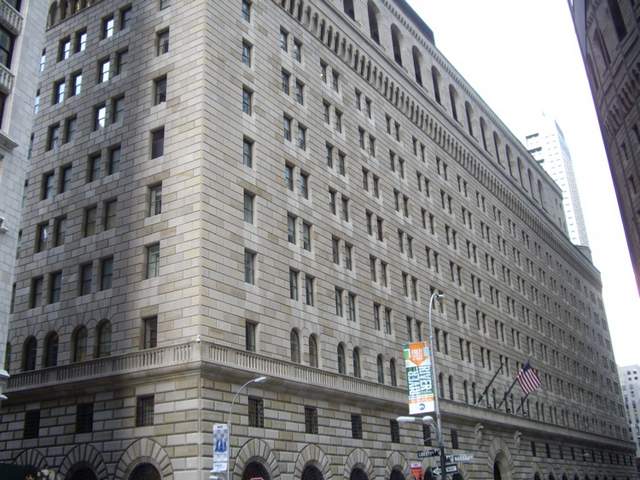 33 Liberty Street
As you continue toward Battery Park, you may want to visit Fraunces Tavern, which is at the corner of Broad and Pearl, about one block east of the southern tip of Broadway. Fraunces Tavern has a long history; perhaps it's best known as the location of Washington's farewell dinner, when he said goodbye to his officers in 1783, at the end of the Revolutionary War. Since the Tavern has often been damaged by fire and rebuilt, the current building is by no means original — it's a reconstruction, built around 1905. Fraunces Tavern is now a museum and restaurant, as well as a tavern.
From Fraunces Tavern, a short walk west will bring you to Battery Park. Battery Park was once an artillery battery, and just before the War of 1812, a fort called Castle Clinton was built there. At the fort, you can buy a ticket for the ferry to the Statue of Liberty and Ellis Island. There are also ferries known as the Circle Line that circle the whole island of Manhattan. The chief attraction of Battery Park is the view of the harbor. New York was blessed with an excellent natural harbor. The harbor made the city, with some help from the Hudson River and later, the Erie Canal.
A guide at Federal Hall told me about various historic sites in New York, including Teddy Roosevelt's birthplace, which is just north of Union Square, Fort Jay and Castle Williams on Governors Island, and The Grange, Alexander Hamilton's "country home," on 141st Street, near the City College of New York. City College's 35-acre campus is on a hill overlooking Harlem; the campus dates to 1903, and its original buildings have been described as "superb examples of English Perpendicular Gothic style."
At Bronx Community College, near 181st Street, is a library and colonnade designed by Stanford White. In the colonnade is the "Hall of Fame for Great Americans," the first hall of fame in the U.S. Though forgotten today, the Hall of Fame was once prestigious: "For a while the term 'Hall of Famer' carried greater cachet than 'Nobel laureate', and a hilltop in the Bronx seemed, to many, the highest spot in the country, if not the world."
To learn about the history of the City, you can visit the museum of the New York Historical Society, the City's oldest museum, at 77th Street and Central Park West, or you can visit The Museum of the City of New York, on the other side of Central Park, at 5th Avenue and 103rd Street, or you can visit The Gotham Center, founded by Mike Wallace, at 350 5th Avenue, between 34th and 35th Streets. Consider also the Tenement Museum, where you can learn about the lives of immigrants on the Lower East Side; the Tenement Museum offers walking tours of the neighborhood as well as tours of the Museum itself. Big Onion Walking Tours offers tours that deal with New York history, as does Patriot Tours. The New York Freedom Trail is a collection of places that played a role in the American Revolution; unlike Boston's Freedom Trail, the New York Trail isn't suitable for walking — the sites are too widely scattered. The Municipal Art Society of New York offers walking tours that emphasize architecture.
Central Park has various sites of artistic and architectural interest; tours of the park are offered by the Central Park Conservancy. Henry Reed (a defender of classical architecture) and Sophia Duckworth wrote Central Park: A History and A Guide. If you want a more popular, more contemporary work on Central Park, consider The Complete Illustrated Map and Guidebook to Central Park. A website about Central Park's trees sells a map that identifies every tree in the park (this site has some photos of Central Park trees). Also consider Tree Trails of Central Park, by M. M. Graff. This site deals with various aspects of Central Park, as does this site.
Bike and Roll offers guided bike tours of Central Park and other New York areas; if you prefer a self-guided tour, Bike and Roll rents bikes. For a ghost tour of New York, click here. For an overview of the City, you can visit the observation deck at Rockefeller Center.5
One of the most popular walks in New York is the High Line in Chelsea, an elevated railway line that has been converted into a park. It's currently 1 mile long, and when it's completed, it will be 1.5 miles long. The landscaping is elegant, but the path is often crowded.
the High Line
If you want a longer walk, Broadway runs from the southern end of Manhattan to the northern end. Fran Leadon wrote Broadway: A History of New York City in Thirteen Miles.
Links For A Tourist in NYC
National Park Service guided tour, or audio tour that you can download and take by yourself (both free)
Melville walking tour from poets.org (well written, no audio)
Poe walking tour
Whitman's SoHo
Whitman's Printing House Square
Free podcasts that guide you on walks (made by "The Bowery Boys")
Self-guided walks, some with a literary flavor
Self-guided walks, tourist tips, and more
Forgotten New York, Kevin Walsh's comments about old New York; Walsh leads guided tours, and has written a book called Forgotten New York
Vanishing New York, Jeremiah Moss's blog lamenting the destruction of old New York
Jane's Walks, free walking tours, first weekend in May, named after activist Jane Jacobs
Association of NYC guides
Hostels and cheap hotels in New York
4. The Skirts of the City
When you're exploring Manhattan, don't forget that Brooklyn has much to offer, too — history, architecture, parks, museums, etc. It even has things you won't find in Manhattan, such as a 500-acre garden cemetery (Green-Wood Cemetery). In recent years, Brooklyn has attracted artists and writers who find Manhattan too business-like. Big Onion offers walking tours of several Brooklyn sites, including Prospect Park, a 600-acre park designed by the same landscape architects who designed Central Park (Olmsted and Vaux). Big Onion also published a book called The Big Onion Guide to Brooklyn: Ten Historic Walking Tours. Also consider Walking Brooklyn, by Adrienne Onofri.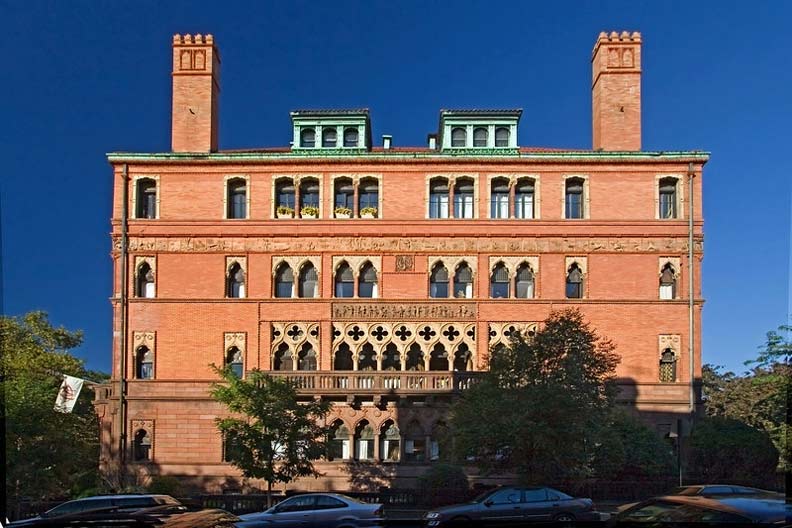 The Montauk Club, inspired by Venice's Ca' d'Oro, is northeast of Prospect Park, in a neighborhood called Park Slope. A private social club, it has long been a gathering-place for Brooklyn gentry, and politicians from Grover Cleveland to Bobby Kennedy have visited.
If you go further east onto Long Island, you can visit the "Gold Coast" mansions on the North Shore, which might be compared to the mansions in Newport, Rhode Island. The Sands Point Preserve has both mansions and trails; its mansions were owned by two famous American families, the Goulds and the Guggenheims. The Great Gatsby is set on the Gold Coast. [For a different view of the setting of Gatsby, click here.]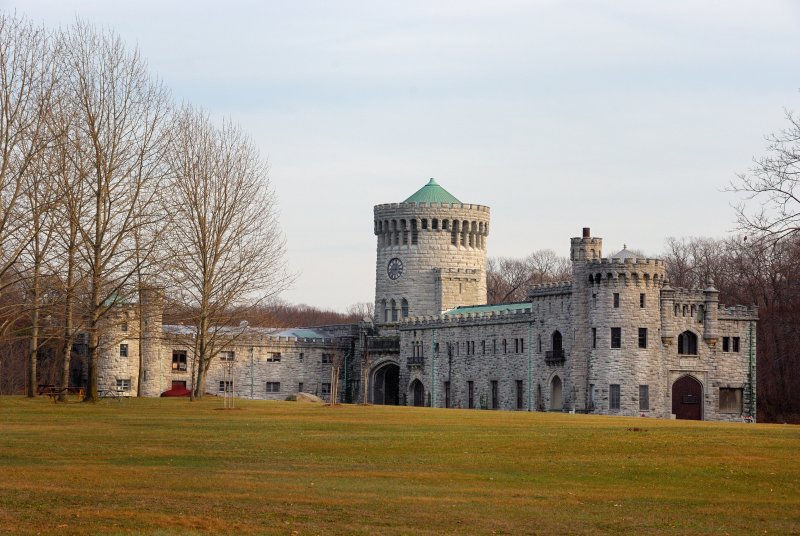 Castle Gould, at the Sands Point Preserve
Also on the North Shore is Sagamore Hill, Teddy Roosevelt's estate, which is near the hamlet of Oyster Bay. Sagamore Hill is managed by the National Park Service. Visitors can tour the house, walk the trails, and go to the museum. Sagamore Hill feels like a house that was built for living, rather than impressing, and TR did indeed enjoy living there.
Sagamore Hill
About ten miles southeast of Sagamore Hill is Walt Whitman's birthplace. The house has been restored, and is open to the public. It's the starting-point of the Walt Whitman Trail, a 4-mile trail that includes Jayne's Hill, the highest point on Long Island, 400 feet above sea level. Whitman said that Jayne's Hill offered "A view of thirty or forty, or even fifty or more miles, especially to the east and south and southwest: the Atlantic Ocean to the latter points in the distance — a glimpse or so of Long Island Sound to the north."
The Indians called Long Island "Paumanok," meaning "fish-shaped," hence Whitman wrote,
Starting from fish-shape Paumanok, where I was born,
Well-begotten, and rais'd by a perfect mother;
After roaming many lands — lover of populous pavements;
Dweller in Mannahatta, my city...
Perhaps the longest hiking trail on Long Island is the 125-mile Paumanok Path. For tips on biking on Long Island, click here.
D. H. Lawrence called his home region "the country of my heart," and Whitman seems to have felt this way about Long Island. Whitman described Long Island thus:
Sea-beauty! Stretch'd and basking!
One side thy inland ocean laving, broad, with copious commerce, steamers, sails,
And one the Atlantic's wind caressing, fierce or gentle —
mighty hulls dark-gliding in the distance.
Isle of sweet brooks of drinking-water — healthy air and soil!
Isle of the salty shore and breeze and brine!
Click here for historic locations on Long Island, such as Oheka Castle and the Vanderbilt Mansion/Museum/Planetarium.
North of New York City, there are several sites of interest, such as Springwood, the home of Franklin Roosevelt. Springwood is in the town of Hyde Park, on the east side of the Hudson River. The site includes Roosevelt's Presidential Library and Museum, as well as his house. About two miles east of Springwood is Val-Kill, the Eleanor Roosevelt National Historic Site. About two miles north of Springwood is the Vanderbilt Mansion, which is surrounded by 200 acres of gardens, woods, etc. About 40 miles south is the 5,000 acre Bear Mountain State Park. From the top of Bear Mountain, you can see the Manhattan skyline, 60 miles away. Six miles of the Appalachian Trail go through the park. About 15 miles south of Bear Mountain is a Rockefeller mansion, Kykuit, which is open to the public; while Bear Mountain is on the west side of the Hudson, Kykuit is on the east side, just north of the Tappan Zee Bridge. For more on Hudson River estates, click here or here. Click here for information about hiking and biking.
Click here for an excellent site on the architecture and history of Buffalo, New York. This site can be used for learning architecture basics.
5. Historical Asides
The earliest European settlers in Manhattan were the Dutch. In 1653, they built a wall along what is now Wall Street, to prevent incursions by the Indians and the English. Manhattan was smaller then — the land ended at Pearl Street in the east and Trinity Place in the west. Later, much land was acquired by filling in the rivers, and Manhattan expanded. Castle Clinton was once an island off the southern tip of Manhattan, but was later surrounded with landfill, and became part of Manhattan. So Manhattan has grown considerably as a result of landfill, just as Boston and Providence grew by landfill.
Perhaps Manhattan's importance as a stock exchange is due to Dutch influence, since the Dutch pioneered shared ownership (shares of stock), in order to raise capital and spread risk. In 1602, the first stock exchange was started in Amsterdam.
The technique of pooling capital to finance the building of ships... made the Netherlands a maritime superpower. Before adoption of the joint-stock corporation, an expensive venture such as the building of a merchant ship could be undertaken only by governments or by very wealthy individuals.6
Besides Wall Street, other New York streets have a history behind their name. For example, Canal Street, which is about 20 blocks north of Wall Street, was originally a canal that was built to drain a pond, then filled in once the pond was drained.
© L. James Hammond 2012
feedback
visit Phlit home page
make a donation via PayPal
---
Footnotes
1.
This map seems to be somewhat inaccurate. It shows the route approaching the Williamsburg Bridge on Wythe Ave., but I have a photo showing us one block west, on Kent Ave. back

2.
The word "saltpeter" contains the word "salt." Nitrate is more accurately called "sodium nitrate," while saltpeter is more accurately called "Chile saltpeter." The chemical symbol of sodium is Na, from the Latin natrium. The word "nitrate" is probably derived from natrium. back

3.
New York was the capital from the spring of 1789 until December, 1790, and then the capital was moved to Philadelphia. In 1800, it was moved to Washington, D.C. back

4.
Another historic mansion in New York is the Morris Mansion, near 162nd Street, which was built in 1765 in the Palladian style. back

5.
A few walking tours are offered by the Institute of Classical Architecture and Art. back

6.
Wikipedia back